In order to Play PO on your Intel Mac you need to have the following requirements and follow the steps given below:
System requirements
Apple's guidance on Windows 10 via Boot Camp is a bit fuzzy. Officially, it says these devices support Windows 10 on Mac:
You should also be running the latest version of macOS.
Boot Camp comes pre-loaded on macOS, but if you don't have it, download the Boot Camp Support Software
here
.
You can have as little as 64GB free storage space on your machine, though Apple says 128GB provides the best experience.
To find out how much free storage space you have available on your Mac, select  > About This Mac from the menu bar. In the popup window, simply select "Storage" to see how much space you have available.
How to prepare your Mac for Windows install
The reason 128GB of free space is recommended is Boot Camp for Mac (or Mac Boot Camp, whatever you prefer) essentially divides your hard drive in two: one for Mac, one for Windows. Automatic Windows Updates require 64GB storage, so 128GB gives your Mac plenty of storage to operate.
Apple's list of machines officially available for Boot Camp all came with 128GB storage as a standard. Again, any Mac with as little as 64GB free space will work, but performance will suffer once you start getting below 128GB.
Boot Camp on Mac will not provide more room for Windows than Mac. Simply put, Boot Camp divides your storage space in two equal parts; if you have 100GB free space on your machine, it will not afford more than 50GB to Windows, which we know is inadequate. It will not allow 64GB for Windows, and 36GB for Mac. Boot Camp automatically affords very little space for Windows, which you can change.
You will need a USB flash drive with at least 16GB free space to install Windows 10 for Mac using Apple's Boot Camp. The exception here would be the following machines machines running macOS El Capitan (10.11) or later, which don't require a USB drive:
How to use Boot Camp to install the Windows 10 ISO
An ISO file is a disk image; there's nothing fancy about it, it's simply the archived version of any platform, like Windows. When you download the Windows 10 ISO file, you're simply downloading the latest version of Windows!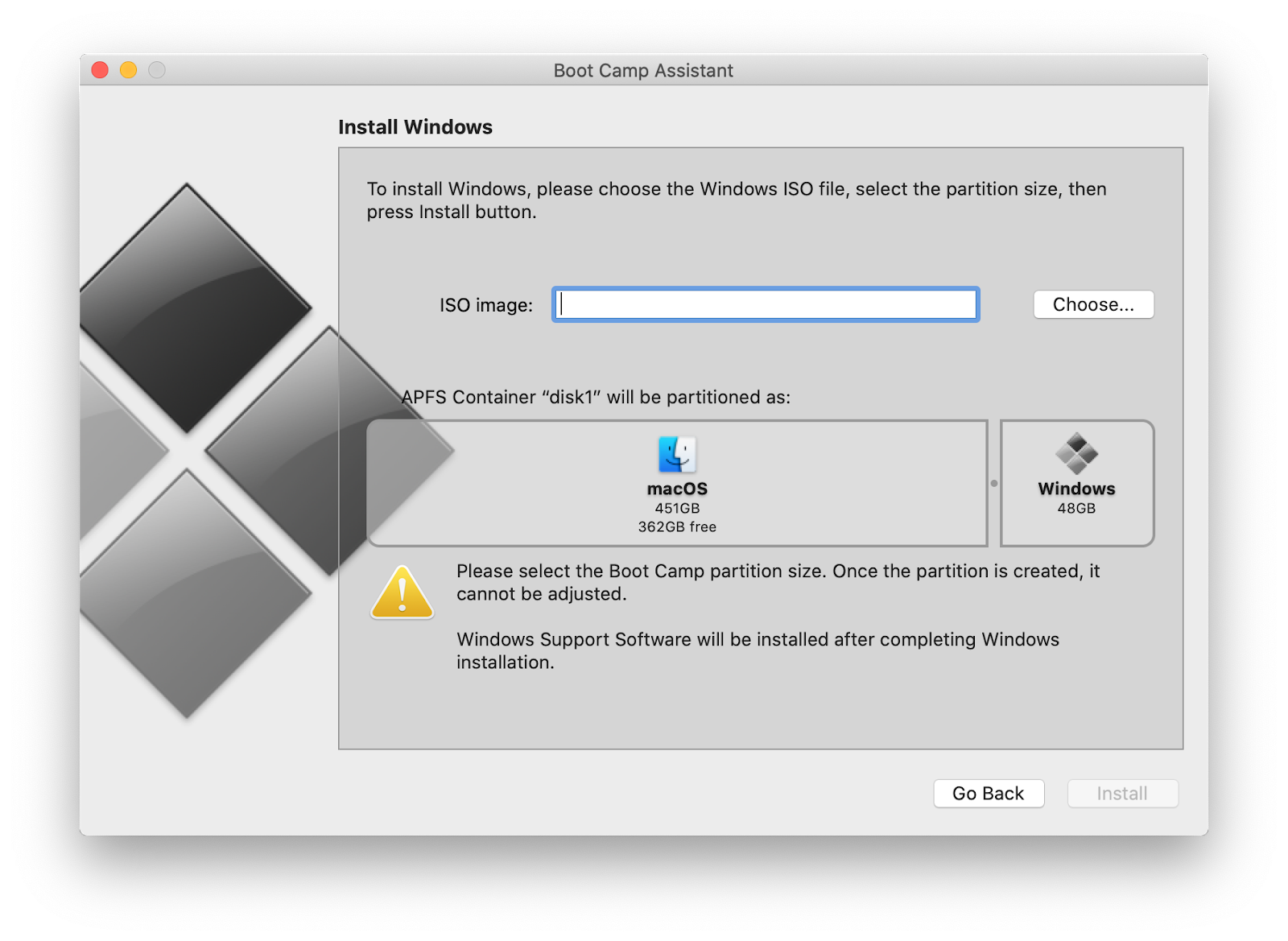 Before you start, be sure your USB drive is plugged into your Mac. Then, take the following steps:
Head to the Microsoft Windows 10 ISO downloads page
Select which version of Windows 10 you want from the drop-down menu (Windows 10 is likely the only option, here).
Click Confirm
From the dropdown menu, select the language you'd like for your version of Windows 10 for Mac.
Click Confirm
Select 64-bit Download
In the popup, select your USB drive from the "Where" drop-down menu
Click Save
How to Install Windows 10 on Mac with Boot Camp
Once you've downloaded the Windows 10 ISO onto your USB drive, make sure you backup your Mac using Time Machine, or a method of your choosing. Then, follow these steps:
On your Mac, go to Finder > Applications > Utilities > Boot Camp Assistant.
Click Continue.
If the system doesn't automatically find your ISO image on your attached USB drive, select "Choose" to find its location.
A slider may appear, showing Boot Camp is allowing 48GB for Windows. This is Apple's default setting. Again, Windows 10 requires at least 64GB, and 128GB is preferred. If you see the slider, drag it to allow Windows as much room as is necessary to operate comfortably.
Click Install.
Type your Mac's password.
Click OK.
Your Mac will restart. Instead of the normal macOS booting operation, you'll instead see a Windows loading screen. You are essentially starting fresh, here. Now, perform these steps:
Choose your language for Windows 10 on Boot Camp
Click Install Now.
Click Next.
Select Custom: Install Windows Only
Click Drive 0 Partition X: BOOTCAMP
Click Next.
Windows is now being installed. Your Mac will restart a few times during this process. The first option you're given is to use "express settings," or custom. Express settings are fine; you can change settings later if you like.
It will also ask you to enter a username and password for this Windows 10 partition, just as you have to log-in to your Mac using macOS. After you've done so, click Next. Windows 10 will now boot on your Mac.
And now you are ready to download and play PO in your Windows.
Set the default operating system from Windows
In Windows on your Mac, click

in the right side of the taskbar, click the Boot Camp icon

, then choose Boot Camp Control Panel.
If a User Account Control dialog appears, click Yes.
Select the startup disk that has the default operating system you want to use.
If you want to start up using the default operating system now, click Restart. Otherwise, click OK.
You can't change your startup volume to an external drive while you're using Windows.
Start up in macOS from Windows
In Windows on your Mac, do one of the following:
Restart using Startup Manager: Restart your Mac, then immediately press and hold the Option key. When the Startup Manager window appears, release the Option key, select your macOS startup disk, then press Return.
If you're using a Mac notebook computer with an external keyboard, make sure you press and hold the Option key on the built-in keyboard.
Restart using Boot Camp Control Panel: Click

in the right side of the taskbar, click the Boot Camp icon

, then choose Restart in macOS.
This also sets the default operating system to macOS.
F
OR ANY OTHER QUESTIONS ABOUT THAT WAY OF PLAYING PO ON MAC, PLEASE CONTACT
JD.
ON DISCORD.